a safari lodge near Otavi
Gabus Game Ranch is a family-owned lodge in Namibia.
We offer a range of activities including game drives, horse riding, hiking trails and more on our 6200-hectare resort.
The lodge is a popular overnight accommodation for tourists travelling to Etosha, Caprivi, Windhoek and other destinations.
Whether it's on a game drive, hiking trail, or from the horseback: You can be one with nature on the farm!
Our lodge waterhole offers wildlife viewing around the clock and many other activities are available to your disposal.
Alternatively, feel free to take a break from the endless Namibian roads and relax by the swimming pool.
We have a range of different accommodation options which include: luxury rooms, family rooms, tented rooms and camping.
Guests can expect a peaceful and friendly atmosphere at the lodge which is currently managed by the german-speaking Kuehl family.
The Gabus lodge is located 8km from Otavi on the D3031 gravel road to Tsumeb and is accessible by all vehicle types.
Our central location makes us the perfect overnight accommodation when travelling through Namibia's northern-central part.
browse through the latest posts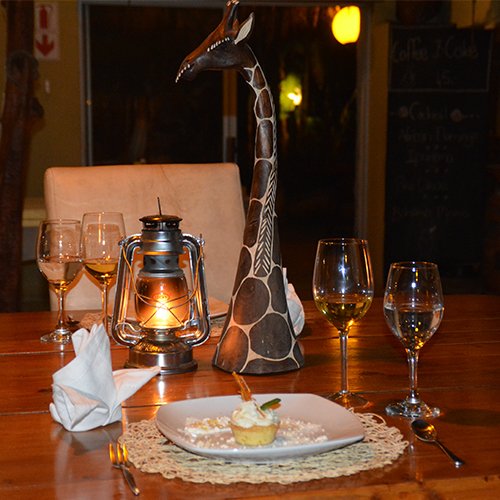 Uncategorized
10 best restaurants in windhoek What are the best places to eat in Namibia's capital? Windhoek offers many great restaurants with different cuisines that you can choose from. Dessert served at restaurant | © Gabus Game Ranch Spoiler Alert 10. The Fisher Hidas Centre, Klein Windhoek +264 81 166 1126
Read More »
to the Etosha National Park
Looking for lodges near Etosha?
Gabus Game Ranch is a 1.5-hour drive away from the park's Namutoni gate.
The park offers an abundance of wildlife including lions, elephants, rhinos, cheetahs, leopards, giraffes, and more.
If you prefer to be guided to the park feel free to ask about our day trips or overnight trips.
Let's go on safari in Namibia
Namibia has many popular destinations to explore including Sossusvlei, Caprivi, Damaraland, Fish River Canyon, Etosha and many more.
We can plan and arrange your safari tour through the country for you.
Every trip is tailored to your preferences and requirements and all lodges and hotels are carefully selected.
Whether it's for self-driving or with a tour guide, we can arrange everything for you.