Gabus Game Ranch Safari Lodge
Gabus Game Ranch is a lodge in Namibia located near Otavi that is built on 6,200 hectares of farmland.
The lodge is a popular overnight accommodation for tourists traveling to Etosha, Caprivi, Windhoek or other destinations.
We have different accommodation options available for every budget including luxury rooms, family rooms, tented rooms as well as a campsite.
Guests can choose from exciting activities to keep themselves entertained during their stay at the lodge.
Kindly note that some activities need to be booked in advance.
Gabus Game Ranch is located 8km from Otavi on the D3031 gravel road to Tsumeb and is accessible by all vehicle types.
Our central location makes us the perfect overnight accommodation when travelling through Namibia's northern-central part.
The Etosha National Park offers an abundance of wildlife including lions, elephants, rhinos, cheetahs, leopards, giraffes, and more.
If you're looking for lodges near Etosha feel free to ask about our availability as we are only 1.5 hours away from the park.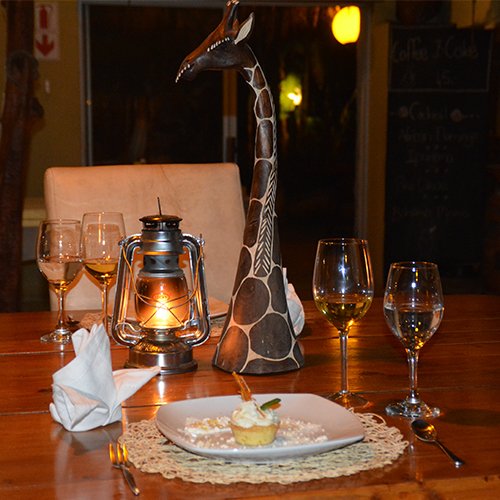 Restaurants
Looking for a good meal to eat in Windhoek? Explore the 10 best restaurant in Namibia's capital city.
Read More »
Activities
In this article, we will be exploring 5 fun activities that you can do in Windhoek to make your stay worthwhile. Feel free to let us know further suggestions in the comments below the article.
Read More »
Travel Destinations
Kolmanskop Ghost Town is located in the far southwestern part of Namibia. Following the discovery of a diamond by a railway worker in 1908, the German colonizers realized that the area was rich in diamonds and declared the area restricted.
Read More »
What an absolute pleasure to stay there. The rooms are spacious, well equipped with a beautiful view on a watering hole. The beds are extremely comfortable with the most luxurious goose feather duvets. The staff was super friendly and helpful and made us feel at home and welcome. The food was amazing. I will definitely return and advise any traveler to stay here. But do yourself a favour and stay at least two nights, one is just not enough.
Me and my family had a good time at Gabus Game Ranch Safaris. Employees are so friendly and helpful. The management is so accommodative. The view of wild animals while enjoying our meal was a wonderful scenery. Accommodation falicilities are above standard, clean and cristal. Thank you all for your outstanding hospitality.