Horse Riding Safaris Namibia
Get close to nature from horseback
We offer riding holiday for beginners or advanced riders. Our horses are all in different shapes and sizes to ensure a perfect match for each rider and their experiences. The speed and difficulty level of our riders are adjusted to match the group. We place great importance on their health and training.
Our pro-horse attitude includes the provision of performance directed feeds, regular veterinary care and regular exercise with experienced trainers. We can only take riders with a max of 80 kg to secure the horses back. Our Safari horses are roaming free on the land where we pick them up for work.
Our horses are trained in the English riding style where they are prepared inside with experienced riders ensure they are in shape. To make our rides more enjoyable for the outside we use trail saddles to enjoy the outrides for both rider and the horse backs. The horses are perfectly adapted to the wildlife and weather conditions. The groups are smaller not more than 4 riders , which gives us a opportunity to get even closer to wildlife.
Riders with experience got the opportunity to go for longer excursions and with speed through the bush savanna Rider with less experience are able to enjoy a shorter and more relaxed cross-country ride in the field.
For all the kids, who feel confident without any assistance with a few experience are welcome to join the outrides adapted to their speed. For those who need a help the horses are either lead with a guide or attched with leasch. Kids need to be above 5 years
Our top priory is the safety of our guests. Helmets are provided to everyone. We do a quick introduction in the horse stable before heading out into nature. All the saddles contain a saddle bag where there is space for a small water bottle and cellphone.
Due to the fact that we have small horses, guests that weigh above 75kg, unfortunately, can't participate in this activity.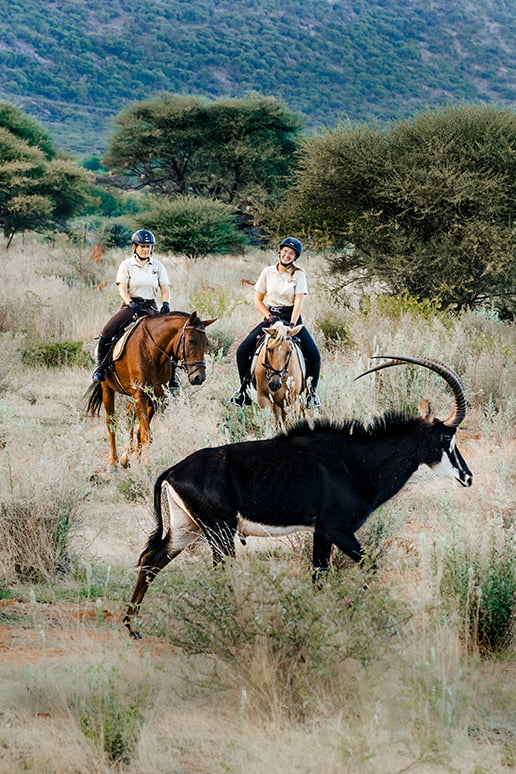 Horseback ride (1.5 hours)

N$500

a 1.5 hour riding session on the farmlands

Horseback ride (2.5 hours)

N$650

a 2.5 hour riding session on the farmlands

Bush breakfast (3.5hours)

N$850

enjoy a breakfast in the middle of the Savannah after horseback riding

Kids ride (45 minutes)

N$300

guided horse riding in the beginners circle for kids
Frequently asked questions
Will I see animals on the horse safari?
Guests are taken out into the farmlands where animals including Giraffe, Eland, Zebra, Impala, Waterbuck, Warthogs and other exciting wildlife can be spotted.
The weight limit for riding at Gabus is 75kg.
Do you offer riding for beginners?
Yes, beginners are welcome to book our horse riding activites. Even people who have never sat on a horseback before can participate.
What do I need to bring along to ride?
We have helmets and other riding equipment to use. Guests should kindly bring along long pants suitable for riding as well as closed shoes.
Are the horses living freely?
Our horses live freely on 6200 hectares of farmland.
How will the weather affect the riding?
The warm African sun makes it difficult to ride at peak times which start at 10:00 and end at 16:00. Furthermore, rainfall makes the ground muddy and slippery which will postpone your horse riding session for the next day.