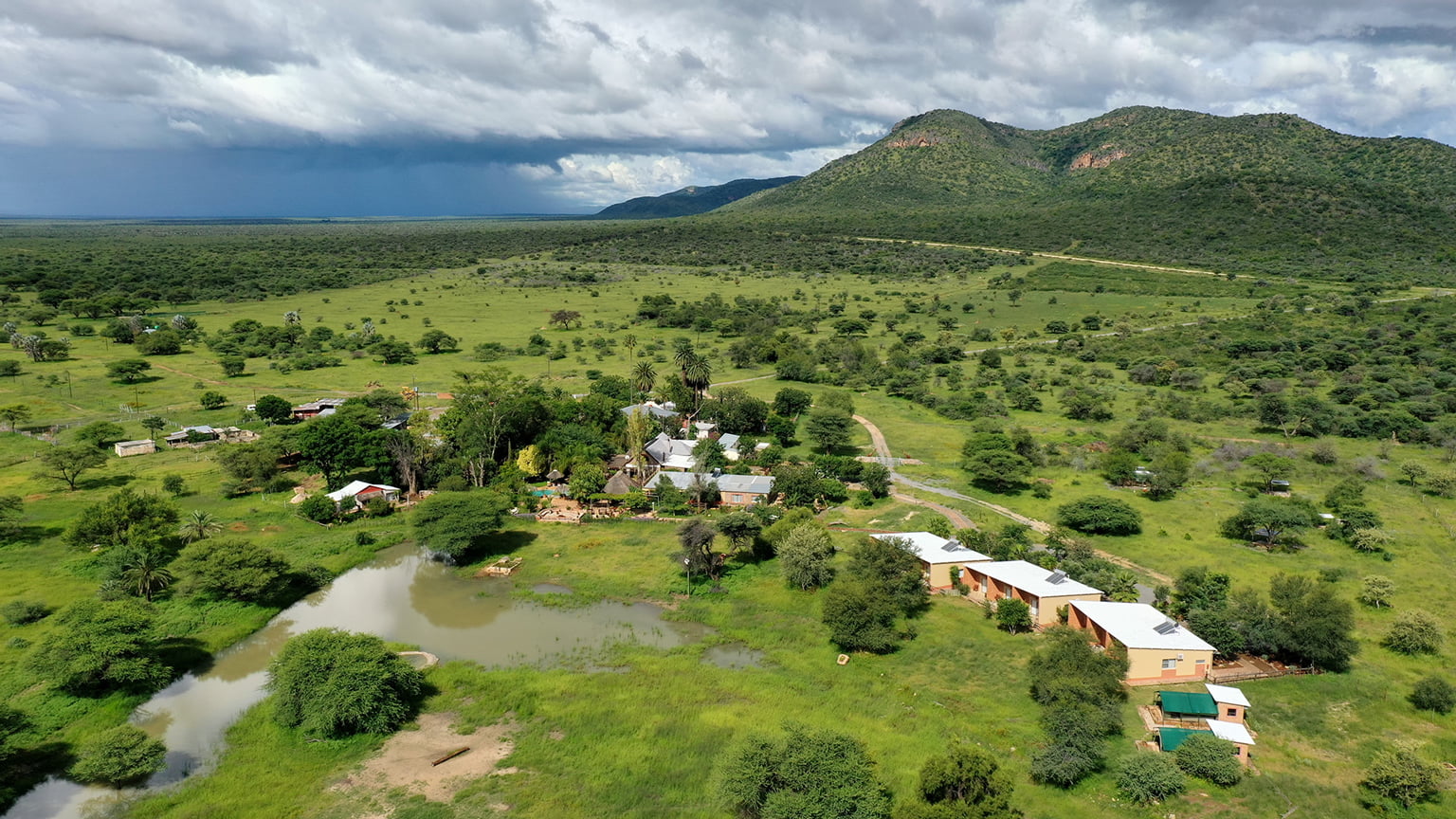 Overview of the Gabus lodge in the rainy season
Are you looking for accommodation near Tsumeb, Otavi or Otjiwarongo?
Gabus Game Ranch offers 4 different accommodation types with different price ranges that cater for every budget including luxury rooms, family rooms, tented camping & campsite.
The Namutoni gate of the Etosha National Park, one of the most popular tourist attractions in Namibia, is only a 1.5-hour drive away from the Gabus lodge.
The luxury rooms are spacious ensuite rooms either equipped as twin or double rooms depending on your preferences.
Indulge the African nature from the room terrace with the waterhole only being 50 meters away from where wildlife can be observed throughout the day & night.
Traveling to Namibia with the family? Our family room is perfect for families with children between 1-10 years old with a shared bathroom separating the main bedroom from the children's room.
The children's room is equipped with a double bed as well as a crib for toddlers in addition to toys and books for kids. Our family room is located only 20 meters from the lodge area and has a shared terrace in front of the room where you can observe the wildlife around the clock.
Setting up a tent can be annoying and time-consuming sometimes! With our tented camping accommodation, you can enjoy a hassle-free stay at Gabus without any stress with your tent.
The tented camping facilities are equipped with a double bed, a private bathroom, and a little terrace outside which has a direct view onto the lodge waterhole.
A buffet breakfast is included in the price as well as a 3-course dinner. Guests have the option to use our restaurant for lunch.
The campsites are cozy and rustic, with all of the atmosphere of a rugged African adventure, but with the added security and comfort of being part of a game ranch.
For the outdoor enthusiasts, we have 3 camping sites available which are located about 100 meters from the lodge area. Camping areas are equipped with a sun shelter with a concrete foundation, electricity provision, a barbecue facility as well as a sink with water.
Campers have access to the swimming pool, restaurant, bar, and general lodge area where Free Wifi is available. Any activity can be booked at our reception including game drives, horse riding, wine farm excursion (book in advance ), and more!